Because When Joining the Fitness Industry, You Should
Own a Franchise That Exceeds The Competition.
Elite Edge
Program Development

Only Group-Based Strength Training Program Developed by a Multiple World Record Powerlifter

Franchise Marketing

Proven Marketing Tools & Support to Succeed

Revenue Average

Average Monthly Gross Revenue More than Doubles Industry Average

Client Loyalty

Our Clients Train with us for Over Two Years & Provide a $4,278 Lifetime Value

Fitness Model Sustainability

Versatile & Comprehensive Fitness Model with Client Well-Being in Mind

Training Satisfaction

Variety of Training Programs Result in Clients Having Fun While Seeing Results
Competition
Program Development

Training Programs Implemented via Cookie-Cutter Business Models

Franchise Marketing

Inconsistent Marketing Support

Revenue Average

Subpar Operations with Results at or Below the Industry Monthly Gross Revenue Average

Client Loyalty

Short-Term Client Retention

Fitness Model Sustainability

Emphasis on a Singular Fitness Trend with Little Concern for Client Safety

Training Satisfaction

Focus on the Repetition of the Same Workout Each Day
Our Edge

on Other Fitness Franchises
A Sustainable Franchise Model
Franchise owners of Elite Edge Transformation Centers are backed by one of the most proven and sustainable support models in the industry. After joining the Elite Edge team, owners receive endless physical resources to keep at their fingertips, access to franchising experts for consulting and mentorship, tested and successful strategies for marketing your new business, and more.
A Fitness Focus with Longevity
The focused fitness model designed by Elite Edge brings franchisees multiple varieties of clientele that train past any short-term program. This is because the Elite fitness model not only includes programs for weight loss and trendy workouts, but our programs grow and develop with each client to adapt to goals from weight loss to strength training.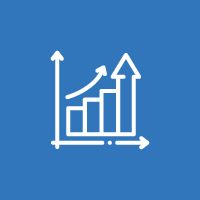 An Industry of Exponential Growth
According to the latest IHRSA report, the fitness industry is projected to bring in $87.5 billion in 2018. The number of gym memberships almost doubled from the year 2000 to 2017, and with the population becoming increasingly more concerned with health and wellness, the growth is only likely to continue throughout the coming years. Now is the perfect time to invest in an expanding market.
10 Things You Should Know Before Opening a Fitness Franchise
Step Into Elite Edge Franchising